Four Seasons Center for the Performing Arts
Tatiana Maslany
One of big winners of the night, Canada's pride, and international star of
Orphan Black.
She was one of the few I actually knew.
Kiefer Sutherland.
What can I say? Love this man. When it comes to men who I would have a bromance or orgy with, he's one of my top five. Granted, it would still be very weird and possibly traumatizing, but I'd be somewhat ready and willing. Although he was born in England, he waves the Canadian flag quite well; he's often spoke of his grandfather, Tommy Douglas, Premier of Saskatchewan, who introduced Canada's first universal healthcare system. Not to mention Donald. Sure enough, his presence was primarily one of communicating Canadian pride.
Part of his speech: "As a self-deprecating nation, we might take the history of Canadian film and television for granted, but we really shouldn't. What would our childhood's have been like without
Mr. Dressup
,
Anne of Green Gables
, or
The Friendly Giant
? And how good is it that we get to claim Norman Jewison, Atom Egoyan, David Cronenberg, James Cameron, Ivan Reitman [...]?" What followed was a beautiful montage, which capped off the moving tribute to Canada's contribution to world film and television.
Interior Four Seasons Center for the Performing Arts, Stage
Interior Four Seasons Center for the Performing Arts, Auditorium Rear*
* I love theaters with opera house style. Look at those horseshoe tiers above.
I was impressed with Andrea Martin's hosting of the Canadian Screen Awards, this will probably stick with me for quite some time. She made a few Red Carpet jokes that I loved; "What are you wearing? Canada Goose; Why is Bruce Jenner hosting the award show? I didn't even know he was Canadian." Love the US tabloids reference. She also "thanked" Target Canada for the wonderful gift bags, talk about self-deprecation. Below, I offer my own celebratory contribution to the Andrea Martin's spoof of award show falls, complete with pixelated crotch.
Andrea Martin's Big Sight Gag
Andrea Martin.
Eugene and Daniel Levy also had a funny "dispute" as presenters over whether or not every nominee was a winner. Daniel assumed the "everybody in here is a winner" opinion. Then Eugene said: "Let's find out, according to your theory, which of the winners is the actual winner."
Louis Ferreira and Kristin Lehman in Motive.
I was happy to see
Motive
get plenty of screen time and recognition, a show that almost doesn't exist in The Golden Globes
,
The Screen Actors Guild Awards, or The Emmy Awards. I was sad to see
Rookie Blue
beat
Motive
for the Golden Screen Awards Best Drama (in other words, the people's choice of Canada).
Bruce McCulloch's Intense Gaze.
Bruce McCulloch was here. I actually already read about this, but seeing it is something else. I'd love Bruce McCulloch to be my boss/co-worker. He looks like an incredibly pleasant man. Perhaps his appearance here is foreshadowing awards, at least nominations, to come next year?
Kacey Rohl was nominated for Best Actress in a Comedy (paraphrasing) for
Working the Engels
. I've never heard of, but I'm intrigued. I enjoyed Kacey Rohl in
The Killing
and was at times hypnotized by her work in
Hannibal
.
Just another shot with another expression.
Joanna Cassidy, winner of best actress in a comedy, emphasized that she was American, and said, "When I think of Candians, I think of Mounties." Can we expect anything less from this
Blade Runner
alum?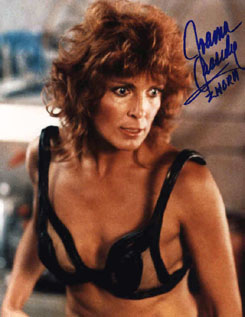 Joanna Cassidy in Blade Runner
Dan Beirne and Mark Little in Space Riders: Division Earth.
Way to go Canada for having a Best Web Series category.
Space Riders: Division Earth
won.
Andrea Martin Orphan Black Audition Sketch
Andrea Martin Spoofing Orphan Black Audition
Andrea Martin Spoofing Orphan Black Audition




Andrea Martin Spoofing Orphan Black Audition
Andrea Martin Spoofing Orphan Black Audition
Joke from leopard jacket portion; "'Do you know how many animals had to die so you could wear that jacket?' I said, 'Do you know how many animals I had to sleep with to get it.'"
Iron Chef Susur Lee.
Big Brother Canada Parody. Great ponytailed apple eating.
I was impressed to learn that Canada had so many reality shows, both unique (
Battle of the Blades
) and versions of American series (
Big Brother Canada, The Amazing Race Canada
,
and
MasterChef Canada).
Another intriguing discovery was the series
Arctic Air
. I'm a sucker for moody, icy drama (and comedy). Canada's doing their best to make me surrender even more of my productivity potential. Worry not, I shall tread carefully.
Pompeii
was honored with the Cineplex Golden Screen Award. One of the Canadian productions that I saw (in 3D in my home theater).
Kudos to Canada for honoring their news anchors and news programs, their equivalents are not as appreciated in the United States. And, of course, the winner was not a host for a New York/United States export, but the host of City National News for Canada's own CTV.
Julianne Côté and

Marc-André Grondin in Tu Dors Nicole (You're Sleeping, Nicole)
One of the major nominees of the night (including best picture) was
Tu Dors Nicole
(
You're Sleeping, Nicole
). I'm impressed with it's visual look (
Julianne Côté is a big reason)
and it is now on my to-see list. Between this and
Mommy
, Quebec had a good year.
John Cusack won for Best Supporting Actor (paraphrased) for
Maps to the Stars
. He was absent. A definite shame and loss. I saw
Maps to the Stars
very early, months before its release. Cusack was impressive as a life-improvement guru. Julianne Moore, who was present at the show (she's Canadian too), played a vulgar Hollywood actress who refers to her privates as "old holes." And Evan Bird, also a nominee, played a total headcase prick. This film was non-existent at the Oscars, I felt validated (for my ambivalent viewing experience) to see this recognized here.
Timbits by Tim Horton's.
Thanks to A.J. Cook, I now know of Timbits.
Ultimately, the Canadian Screen Awards 2015 made up for an underwhelming Academy Awards (United States) 2015, actually it's more akin to The Golden Globes where both film and television get honored. The broadcast was tight. And it was somehow cozier and more inviting. I'm going to try to watch these live next year on the internet. Great.
Find the complete list of nominees and winners here:
The Nominees and Winners