This is another first for The Film and TV Hub. I've never shared a Top or Favorite TV list before. Weird, since I spend more time watching TV than movies. Well, here goes. Reader beware: there will be no reality shows, documentary shows, or any other format in the non-fiction realm. This is a list of dramas, primarily, and some sitcoms in the runners-up.
All series on the actual list are series I collect except one.
1.
Hannibal
(Collector)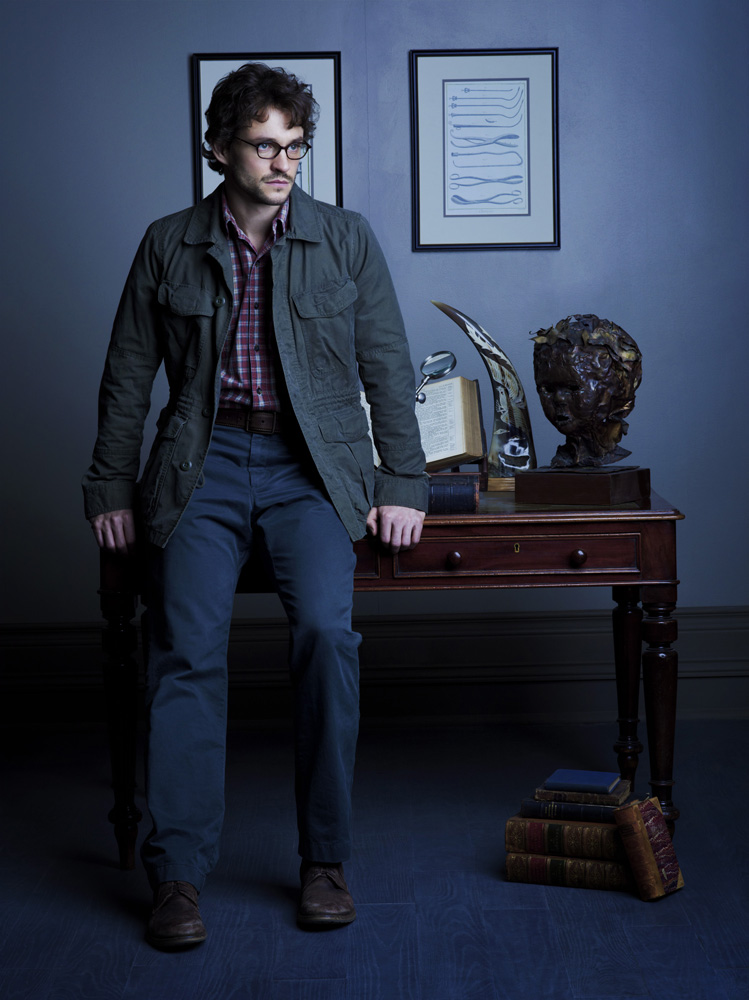 Hugh Dancy as Will Graham
Will Graham has always been a role-model for me. Every version of Will Graham takes my breath away. Will Graham on the page. Will Graham as played by Edward Norton in
Red Dragon
. Then my two favorites: Will Graham as depicted by William Petersen in
Manhunter
and Will Graham as depicted by Hugh Dancy in
Hannibal
.
Hannibal
is a bromance, and I can think of no better bromance than one with Will Graham. Very sexy.
People get hung up on the Will-Hannibal bromance, but there is also a Will-Jack (Crawford) bromance. This bromantic triangle is delicious. What makes the Will-Jack bromance more interesting is that they are inter-racial and Jack is a man of duty to the greater good. Whereas the greater good for Hannibal is himself. Hey, Blackjack, haha. In one of the commentaries, Bryan Fuller refers to Will Graham as Graham Cracker Will, or some "graham cracker" variation like that; I'm not the only one being juvenile.
I have one very big question for the show-runners. In the books and movies, Will Graham is married with a child: will this version of Will get married and have a child and move to Florida as well? It will be interesting to see if that happens, or some version of it, and how. I think this is probably going to change significantly from the books as a wife and a kid seem nowhere in sight. But here's to hoping!
Many a murderous tableau distinguish this series. Season Two saw a drastic improvement in Hannibal's own tableau contributions and Will Graham even got one. I finished watching all the special features on that disc set about one month ago. This has to be my favorite cast and crew on television, probably film too. Season standouts (for me) include Hannibal's judge tableau, Will as Hannibal (the hilarious trial scenes, especially), the cave bear killer, the finale bloodbath, and Katharine Isabelle. I also enjoy Caroline Dhavernas as Alana Bloom quite a bit.
Will Graham's profiling ability and general empathy combined with social awkwardness, is a wet dream for someone like myself. One thing I loved, though, is that incarceration makes Will more focused and more assertive. His confidence blew me back when he has his first conversation with Alana after he gets out. He tells her plainly that she's wrong and he's right. As a segue to the next show on the list I will add one thing; people often speculate as to what characters from other shows would do well in the world of
Game of Thrones
--I say Hannibal, obviously, and also Will. Jack may have a decent chance, too.
2.
Game of Thrones
(Collector)
Last season I missed Thoros of Muir and Lord Beric Dondarrion. That said, we got to see a little of Mance Rayder, plenty of Tormund and Ygritte (and many more wildlings, and giants and mammoths), and more Whitewalkers. Yeah, I'm an ice bitch, my favorite stuff is happening at the wall and beyond. The South is for suckers. So is the East although I dig the Dragons and Ser Jorah Mormont. I do root for Daenerys, I just don't dig the the overall scene. I dare not rehash any pivotal plot points.
Based on spoilers, I'm anticipating seeing Thoros and Dondarrion back. I'm eager to see the Whitwalkers do their worst in the future of the series. I'm Also eager to see Bran fly (Raisin Bran Stark? No), or whatever. So many exciting things to come.
Game of Thrones
has more instantly iconic characters and worlds than any other show. These characters and scenes haunt the mind like memories from a past life.
If you haven't watched the show or have a poor attention span or memory, you won't appreciate what I've written. If you haven't seen it, try it. Over 190 countries watch this show.
3.
Homeland
(Collector)
Claire Danes as Carrie Mathison and Rupert Friend as Peter Quinn
The original? I can't hear you. Does it have Claire Danes, Mandy Patinkin, F. Murray Abraham, or the cool surveillance dudes? Then it's original nothing, man. This series had a new beginning this year and was a return to form as well. This is a show that presidents adore. If you watch it then you are in good company, it's that simple. However, an ounce of humanity combined with an ounce of appreciation for drama, thrills, and the moving image should guarantee satisfaction. This wasn't the best or most memorable season, but it was on the right track and explored aspects of Carrie's life as well as Quinn's in ways that provide some major tonal and thematic relief.
4.
American Horror Story
(Collector)
Wes Bentley as Edward Mordrake.
Freak Show
was my least favorite yet. However, this season still had lots of heart--and blood. Evan Peters was the heart of the show, in my estimation. His character drew me in like no other. However, Emma Roberts was more radiant than ever and she brought in her own magnetism by association with the Peters character. I enjoyed seeing Jessica Lange change it up with the German accent. Perhaps, the most enjoyable horror element was Edward Mordrake. I also liked the stop-motion credit sequence more than any other from the series.
5.
Mad Men
(Collector)
John Slattery as Roger Sterling and Jon Hamm as Don Draper
This show certainly lost steam and some respect. However, it still looks and sounds gorgeous. It may be salacious and increasingly melodramatic, but there is still a ring of importance to everything. Roger's domestic life, or lack thereof, gets some touching screen time. Mathew Weiner, show creator and runner, expressed that the finale came to him in a light bulb moment of inspiration, which is promising. In particular, I loved Megan Draper's Los Angeles home in the hills and, generally, the greater focus on everything bi-coastal. There were fewer memorable moments in part I of the seventh season, but I am definitely looking forward to part II. I am looking forward to completing my Blu-ray collection as well.
6.
Lilyhammer
(Not a collector yet).
Trond Fausa, Tommy Karlsen, Steven Van Zandt, and Robert Skjærstad
There is no funnier show on TV. Most episodes have me laughing out loud throughout the episode. This does dark comedy like few manage anymore. I love the underdog, ragtag, cadre of motley men that drive this material through our marrow. I don't know these actors. I had to look them up. Under-appreciated they are, for sure. Trond Fausa is so good, I also feel his resignation is unacceptable if it possibly means losing him. But I want what the character wants, ultimately.
Another thing this show does is embrace the fantasy/solution to life's problems by getting far away. If you don't know, the series follows the misadventures of a member of the New York mafia who turns informant/witness and goes to Lillehammer, Norway as part of a witness protection program. In his own words, he becomes the Bugsy Siegel of the town. Change your surroundings, change your life. And there is no better place than a winter wonderland for the big reset.
I felt the first two seasons were stronger, but there were definitely classic moments here, especially the ski jump. The fish out of water saga is still a haven of hilarity.
7.
True Detective
(Collector)
The only Mathew McConaughey you'll ever need. As Rust Cohle.
I discovered this series while doing research into MFA programs in creative writing. Nic Pizzolatto is a graduate of the University of Arkansas program in Fayetteville. I was pleased to discover this show starring Mathew McConaughey and Woody Harrelson. There is not much I can say about this show; it is one of a kind even though it explores superficial themes found in tons of other shows. This is one of those shows that makes you feel half-asleep (in a good way), very dreamy. The ending is very
Casablanca
(thematically), which is superb. Multi-decade murders and investigations and post-Katrina police interviews and hardcore Southernisms make this the only dive you'll ever need.
Runners-Up:
Orphan Black
The Newsroom
The Bridge
The Strain
The Fall
Sons of Anarchy
Sherlock
House of Cards
Teen Wolf
The Walking Dead
The Following
Bates Motel
The Killing
Broadchurch
(David Tennant!)
Gracepoint
(David Tennant does American!)
Runners-Up to the Runners-Up (These are just fun):
New Girl
The Flash
CSI
Bones
Motive