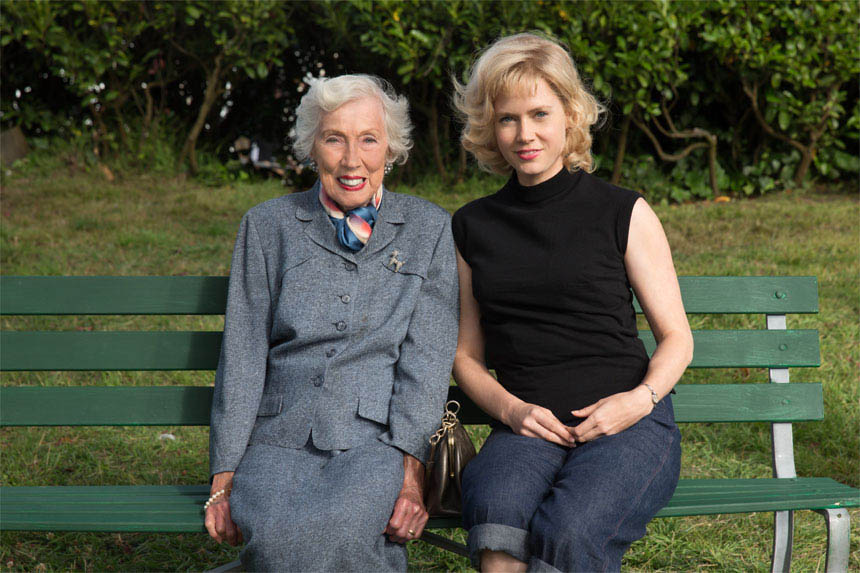 Amy Adams (right) next to the real Margaret Keane (left).
Big Eyes
: Tim Burton creates a beautiful period atmosphere featuring San Francisco and Hawaii. Amy Adams is unbelievably radiant. This is based on a true story and is one of the few that was not embellished, it was actually watered down. Margaret Keane's artwork obviously pops on screen. My problem with this film is that the trailers and the promotional interviews gave a little too much away; hence, there is a shortage of dramatic tension, it feels like the film is just going through the motions. But what beautiful motions they are. Pictures are worth more than words, so look.
Birdman: First of all, Andrea Riseborough is sexier than ever here although I couldn't find a shot from the actual movie (but the portrait above is pretty close, with less skin). I included some shots that help convey the immediate, enveloping New York City/Broadway Theater mood of this film. However, it is impossible to do this film justice with text or still images because it's all about the motion. This film's most distinguishing characteristic is tracking shots. Fluid camera motion on a par with Stanley Kubrick, Alfred Hitchcock, Martin Scorsese, Brian De Palma, and Dario Argento permeates the film. In some ways, it reminds me of Rope, as it is a tense story unfolding in a limited setting with relatively few cuts (though certainly more than Rope). This film puts the viewer in cramped, narrow hallways and fitting rooms and offices and ledges and roofs and sidewalks and bars like no other film I can think of offhand. The massive theatrical choreography here is apropos for a film about the theater, always making for more naturalistic and accessible yet grand imagery. We also get to see the acting process unfold before our eyes, there is a keen meta quality gracing Birdman. Overall, the ambiguous final shot and the hallucinatory (is it real or isn't it?) material lowered the enjoyment for me. However, Interstellar is the best looking blockbuster extravaganza of the year, Birdman is the best looking independent of the year.