Samsara
: This follow up to Ron Fricke's 1990's film
Baraka
is simply a marvel. This is non-narrative film making of the highest order. Fricke specializes in global, large format (70mm) films that portray various cultures and locations. It is one of the only Blu-rays to be released with full 24 Bit/96KHz surround sound, which makes it that much more real on a decent sound system. This film tends to create a trance in viewers that often leads to feelings of spiritual transcendence. Some people will be turned off at the lack of narration but beyond that--there are few films greater.
The Dark Knight Rises
: This is my favorite narrative film of the year. The emotional impact, although it relies on tricks and questionable science, is outstanding and I don't want to say what it is? The film also raises the question as to whether there will be any Robin films from the production company. One thing I discovered recently is that there is a technique (involving wish-fulfillment) used in this film that can be traced at least as far back as
Good Will Hunting
. Not a bad lineage and part of the satisfaction. This film, quite simply, was one of the few that consistently gives me gooseflesh (largely thanks to the ever improving Hans Zimmer's music) viewing after viewing. The climb scene may be my favorite. This film is also a technical wonder, not unlike
Samsara
above. Hathaway and Cotillard add pluck. Don't be too snooty and anyone should love this final chapter to Nolan's trilogy.
Django Unchained
: This is not Tarantino's best film, it may not even crack the top five but with Tarantino, his worst is still among the best. He is perhaps the only filmmaker who hasn't made a generally disappointing film, Kubrick may also join this club. This piece intriguingly blends German mythology with the Wild West and offers up great revenge and justice, probably Tarantino's most used theme lately (his last 4 to 5 films are revenge films). I learned of some great songs thanks to this movie, most notably, Jim Croce's "I Got A Name." Another great thing about Tarantino is that he inspires the audience to watch new movies, his films are as educational about film as they are entertaining.
Argo: This being the big winner of 2012, there's no questioning the impact. Personally, I love a few things: Ben Affleck, John Goodman, Alan Arkin, the prosthetic masks, the cheesy science fiction movie production scene, the educational prologue, the final credits showing how authentic the film was, Bryan Cranston, Victor Garber, and the fact that nothing feels out of place. Humor and drama and suspense and a glimpse into the hidden corners of reality: it's just excellent.
Silver Linings Playbook: This is a great example to any writer who wants to be taken seriously writing romance, comedy, and happy endings. Lawrence is more radiant than ever (just look above) and Bradley Cooper offers up a performance I like just as much as Limitless and I like this film even more. Cooper brings a genuine darkness to the character, which the writing allows to be funny. Lawrence also brings a recognizable darkness that I've experienced from actual girls in my life. Their misunderstandings and provocations are the stuff of schadenfreude heaven, really the whole movie is, not National Lampoon's level mind you, more subtle. Robert De Niro almost steals the show as the emotionally taxed father with the heart of gold, the sports betting may have you in knots. This film doesn't need a silver lining.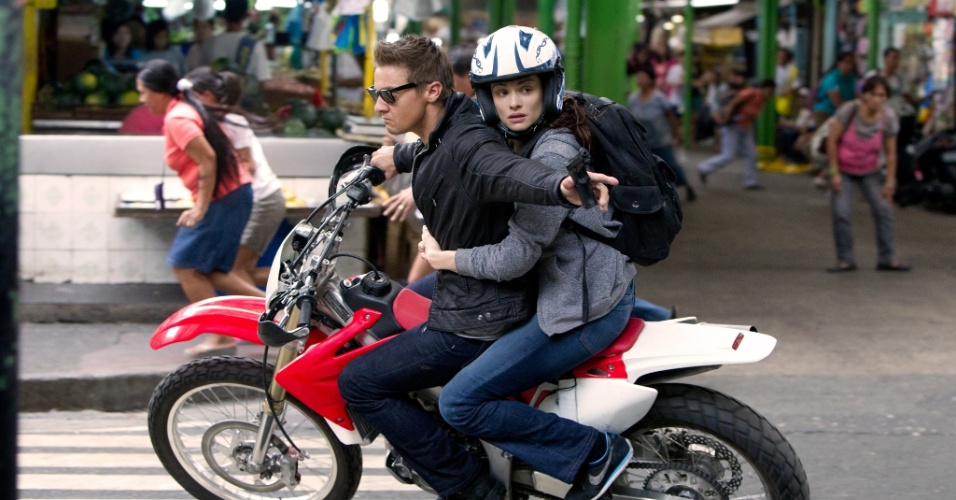 The Bourne Legacy: Initially, I was skeptical about a film in this franchise without Bourne himself. That said, I was blown away by the pacing and sheer fun of it all. Rachel Weisz makes a much welcomed return to popcorn movies and she's gorgeous to behold. Renner delivers a capable performance as the survivor/rescuer. Sure, it would be nice if Weisz kicked more ass and wasn't in distress, but she wasn't and my mom (and my aunt and so many other women and men I know, including me) wouldn't kick ass either, so take that feminists and snobs. I have a thing for snowy wilderness and cabin scenes, which made the opening of the film a swooning affair. I love that this film also incorporates a new level of biotech not explored in the other films.

People Like Us: Look at the above/upper picture and you will know why I watched this film. However, Elizabeth Banks' scorching screen presence is just the tip of the iceberg here. This is a film about wills and distant relations coming together, and becoming a better person and relationships overcoming obstacles and bonding and so much positive themes. It also has some nice mood shots of Los Angeles/Hollywood. This is sentimental shit without being shitty.
Big Miracle: Like Argo, this is another film that is an highly authentic portrayal (complete with final credits showing the reality of the film) of a true story, and it's funny and happy. so what's not to like? Granted, the actors cast are more glamorous than the real life counterparts but the whales are dead-ringers for all intents and purposes. Ted Danson was amazing here although there were really no weak players. I'm a sucker for films set in icy civilizations, especially with pleasing stories. Go watch this film and experience a miracle.
The Perks of Being a Wallflower: What can I say? I'm a sucker for well-made high school movies. I'm a sucker for the radiant Emma Watson. I'm a sucker for edgy character studies. This film also holds an additional significance for me: one of my college/online crushes recommended the book to me: well, I never read it but this movie satisfied a good deal of my curiosity about that recommendation. At this point, the plot is kind of a blur but I know I loved it and am ready to watch it again.
Sassy Pants: This is my obscure entry on the list. Ashley Rickards glows and Anna Gunn (known for "Breaking Bad") will tear your heart out with her performance; the writing here allows for phenomenal levels of interpersonal/mundane tension to build. This film is a follow-your-dreams picture and I could not be more impressed with it, unless it somehow had Gary Busey, Denis Leary, and Christopher Walken thrown in (or some comparable assortment of eccentrics). But really, this film shows us a mesmerizing story of simplicity.